Water Activities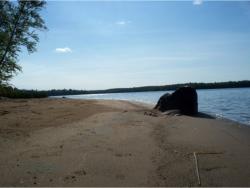 Visitors to the Turtle-Flambeau Flowage come to enjoy the peace, quiet, and wilderness surroundings. The Flowage has an abundance of stumps, logs, floating "drift wood," and rock bars that are great for fish and wildlife habitat. Caution is advised while water skiing, tubing and using personal watercraft on the Flowage. Pontoon boat touring is an ideal way to explore the area and pontoon boats are available for rent from area businesses.      

Canoeing and kayaking opportunities abound. Paddling on the Flowage is a flat-water experience. A voluntary quiet area has been established on approximately the eastern 1/5 of the Flowage. The quiet area boundaries run from the narrows near Blair Lake upstream to the property boundary which is near the confluence of the Bear and Manitowish Rivers. The purpose of this designation is to promote an atmosphere of quiet solitude for those seeking a "wilderness" type experience.

To experience more of a thrill while paddling, try the Flambeau, Turtle, Manitowish or Bear Rivers which have a current and whitewater adventure. Area outfitters provide services for paddling, rafting and tubing.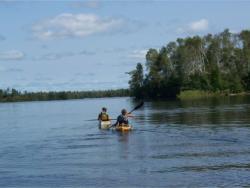 Most lodging facilities offer sandy beaches for swimming and relaxing. There are an abundance of sandy beaches available on many of the 195 islands scattered throughout this pristine body of water to make your own personal paradise oasis.

There are six boat landings in the Turtle-Flambeau Scenic Waters Area providing boat and canoe launch facilities on the Turtle-Flambeau Flowage. Lake of the Falls County Park on the north end of the Flowage has a boat launch and camping available.