Turtle Flambeau Flowage
The Turtle Flambeau Flowage...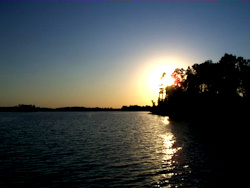 The Turtle Flambeau Scenic Wilderness Waters Area and Trude Lake is comprised of nearly 19,000 acres of water and 35,500 acres of public land for you to use and enjoy throughout the year. Unlike Canada, there is no passport required. Unlike Minnesota's Boundary Waters, there are no permits required.
The Turtle Flambeau Flowage is a result of the 1926 construction of a dam to create a reservoir. The Turtle Flambeau Dam harnesses the power of the Turtle and Flambeau Rivers to generate energy for the Flambeau Paper Corporation, located 20 miles south on the Flambeau River in Park Falls. The dam created 19,000 acres of water with 212 miles of pristine winding shoreline. The Turtle Flambeau Flowage encompasses 16 natural lakes, three rivers and several creeks, all beautifully free of pollution.
How to Find Us
The Turtle Flambeau Flowage is located between the towns of Mercer, in Iron County, and Park Falls, in Price County. The Flowage is about 375 miles from Chicago, 300 miles from Milwaukee, and 275 miles from Minneapolis. It is easily accessible from either U.S. Highway 51 in Mercer via County Highway FF or U.S. Highway 13 in Park Falls/Butternut via County Highway F.
Outstanding Area for Nature Lovers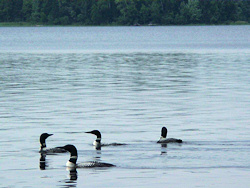 In 1992, Wisconsin Governor Tommy Thompson officially recognized what many already knew of the Turtle Flambeau Flowage when he designated it as a protected wilderness area, securing its rugged beauty and unspoiled wild character for generations to come.
The Flowage is truly a water wonderland, offering countless opportunities for outdoor adventure. The Turtle Flambeau Flowage is a natural choice for outdoor living, with accommodations for any style of "roughing it".
A Turtle Flambeau Flowage Association map, which includes accommodations and services, will be mailed to your home upon request. Visit our contact us page, on the top menu, to request a map and start planning your escape today.
There are wilderness campsites accessible by water only. A map with the campsite locations is available by contacting the Mercer Ranger Station at 715-476-2240.