Nature & Wildlife
The Turtle-Flambeau Scenic Waters Area encompasses nearly 37,000 acres and a wide variety of wildlife habitats. There are large expanses of open water, hundreds of scattered islands and many quiet bays in the Turtle-Flambeau Flowage; surrounding woodlands vary from steeply rolling hills to level terrain; there are grassy openings, small wild lakes and ponds, and expansive wetlands. The woodlands consist primarily of aspen, northern hardwoods and white birch with scattered old growth hemlock and pine.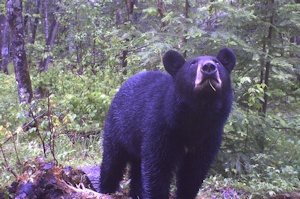 The Flowage, known for its high density of bald eagles, osprey, and common loons is also home to black terns, merlins, trumpeter swans, and over 150 other bird species. In addition, a variety of reptiles, amphibians and mammals, including deer, bear, bobcat, and timber wolves are found here. There have even been occasional sightings of moose.
Many opportunities exist to observe and enjoy wildlife in a remote and wild setting. Approach wildlife slowly and quietly and be particularly careful not to disturb nesting birds or animals with small young.