Fishing
The Flowage provides the ultimate northwoods fishing experience. It supports a diversified fishery  including walleye, muskellunge, smallmouth and largemouth bass, crappie, perch and bluegill.
The Flowage is best known for its superb walleye fishery. Walleye are by far the most abundant gamefish and provide the majority of sport fish harvest. The abundance of catchable size walleye is outstanding.
Crappie have proven to provide some exceptional panfishing during the early summer, fall and through the ice. Jumbo perch and big bluegills provide action year' round.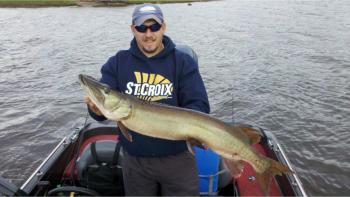 Muskies provide outstanding trophy angling. In the past muskies in excess of 50 pounds have been caught. Annual stocking is used to supplement the limited natural reproduction.
Smallmouth bass provide quality fishing throughout the year. "Smallies" in the flowage are exceptionally heavy fish for their length and are commonly referred to as "footballs". This is why it has become a trophy smallmouth fishery.
Hundreds of fish cribs have been installed through-out the Turtle Flambeau Flowage in 10-15 feet of water. The cribs provide cover for the smaller fish to hide and grow. They also provide excellent structure for larger fish to congregate.
Lake of the Falls County Park offers the largest amount of shore fishing opportunities on the Turtle Flambeau Flowage. On West Popko's Circle, just south of the county park, there is a dike that shore  anglers frequent. Also on West Popko's Circle, where Trude Lake empties into the flowage, there is a bridge and shore fishing area. Anglers may also go to the boat landings and work the shoreline from there.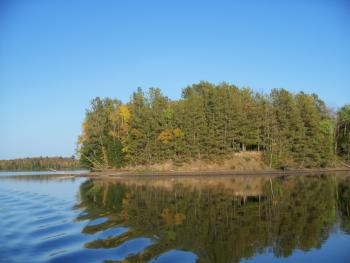 There are six boat landings in the Turtle Flambeau Scenic Waters Area providing boat and canoe launch facilities on the Turtle Flambeau Flowage. Lake of the Falls County Park on the north end of the Flowage has a boat launch and camping available.
Fishing on the North Fork of the Flambeau River is excellent for Walleye, Muskie, Smallmouth and Sturgeon. Guided trips are available through the Midway Bar. A trip includes a 15' flat bottom boat, guide, shore lunch which is cooked by the guide and fish stories like you wouldn't believe!
Ice fishing on the Flowage is a favorite pastime. Winter brings about another dimension of fishing opportunities. Ice anglers will find plenty of action between tip-up fishing for walleye and bass to jig pole fishing for slab crappies, jumbo perch and big bluegills. Check out our events page to find information about ice fishing tournaments. Caution should always be used on the ice so check with the local bait shops and resorts about current ice conditions before venturing out.  You'll find that this is where the locals fish for fun and success!
Fishing Reports 1 or Fishing Reports 2
The Fishery in the Turtle-Flambeau Flowage [PDF 280KB] - updated annually with current regulations
Fishing Guides for Open Water and Ice Fishing